Match001 - This is the good, standard, white cotton cord, 1/4" diameter. Good for all common uses. $3.50/yard

Match002 - Now available!!! Hemp match is back in stock. $7.00/yard

As per UN shipping regulations, I am unable to ship slowmatch out of the US. Other than match, all of the other supplies can be shipped just about anywhere.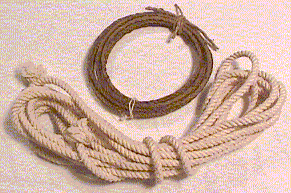 Match002 on top, Match001 on bottom