HEADWARE
Elizabethan Flat Cap

Elizabethan flat cap, one size fits all, just clip to fit. Made of wool. Current wool colors are Brown, Black, Blue, Grey, Off White, Green, and Yellow. Colors are based on on hand stock and color availability - $15.00 each

*Also available in linen, please inquiry as to colors, price and availablity.
Monmouth Cap

Knitted of 100% wool. My knitter is involved in the process from the shearing to the shipping. The shipment of caps I usually receive are chocolate brown, natural and a tan color. If you have any questions about the colors, please email me or ask about them when you call with your information. - $42.00
---
STOCKINGS
Please specify type of stocking (cotton, wool or silk) and color when ordering.

Cotton Stocking - $15.00 each

Available in (top middle) Blue, (left side from top to bottom) Dark Green, Navy, Maroon, Natural, Bright Blue, and Walnut Green, (right side from top to bottom), Charcoal, Mustard, White and Brown, (not shown) Bright Red

Wool Stockings - $28.00

Available in Charcoal Grey, Dark Brown, Dark Green, Navy Wool & Natural.

StockingSilk - Not Pictured - off white silk stockings. Over the knee. $12.00/pair
SNAPSACK - $40.00 each
This pattern is based on information from a number of sources. These sacks are made with hemp canvas, have a drawstring at both ends and a leather belt with brass buckle. Snapsacks can be sent with no holes punched so that you can size them.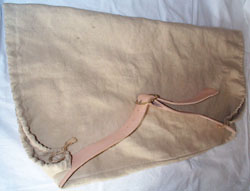 Sack001
---
Return to Syke's Sutlering Main Clothing