COATS
Sizes are as follows: Medium (roughly a 38'" chest - neck:15-1/2"), Large (roughly 42" chest - neck:16"); X-Large (roughly 46" chest- neck:17"); 2X (roughly 50" chest - neck 18"; 3X (roughly 54 "chest - neck 22"). All . Coats are made of wool or linen. Please contact me to see what colors are available. However, I usually have Chocolate Brown and Black in stock at all times.
Right now I have a limited supply of wool colors: I would suggest you email or call to inquiry as to current colors in inventory.
Coat Weight Wool stock: Blue, Black Blue/Grey, Green, Yellow and light Grey.
Light weight wool: Dark Grey (almost black), Medium Grey, Blue, Black, Cranberry, and Dark Brown.
Heavy weight linen colors that I usually have in stock are Black, Brown, Grey & Blue.
If you are unsure of your size, it is suggested that you email or call before ordering, since the sizing of these coats are not the modern dress coat sizes. These coats are based on neck/chest size and you may take a larger size than you think in order to wear it comfortably. Additionally, the fit will also depend on whether you want a wool, fustian lining or linen lining. Also, keep in mind when ordering as there is a 20% restocking fee for returned items not exchanged for another size and return shipping will not be credited or refunded.
ENGLISH CIVIL WAR PERIOD SOLDIER'S COATS

All coats are made according to the pattern for the "conjectural coat" on page 24 of Common Soldiers Clothing of the Civil Wars 1639-1646: Volume 1: Infantry . They have the winged shoulders, 2" standing collar, and wood bead buttons. Please specify if you need ties (New Model). Soldier Coat Linings will be made of Fustian fabric unless otherwise requested.

Wool & Linen Prices

Soldier's Coat Medium, Large or X-Large - $120.00
Soldier's Coat 2X, 3X or larger $130.00

Wool coats - wool shell with either a fustian lining or linen lining.

Linen coats - heavy weight linen shell with either a fustian or heavy weight linen lining.

As shown above in Hodden Grey
---
WORKMAN'S/SAILOR'S CASSOCK

All cassocks are made according to the pattern for Clothes of the Common People in Elizabethan and Stuart Englang by Stuart Press. Colors based on stock on hand and availability

Wool: Medium, Large or X-Large - $130.00
2X, 3X or larger $150.00

Wool Cassocks are made with a wool shell and either a wool or a canvas linen lining.

Fustian: Medium, Large or X-Large: $75.00
2X, 3X or larger : $80.00

Fustian Cassocks are made with one layer of heavy fustian fabric.

As shown above in Madder Red shell

and pale yellow lining
---
LONG CASSOCK
Long Cassock - This is available and are sized to fit over any coat. As pictured it is buttoned as for a coat, however, it can be buttoned together to look like a cape. The cassock is slightly longer than the coat and has approximately 60 buttons. Shell and lining are both made of wool. - $225.00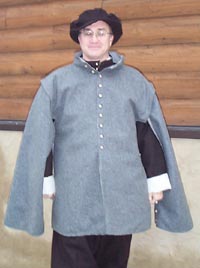 RIDING COAT

Wool Prices

Medium, Large or X-Large - $100.00
2X, 3X or larger $125.00

Al Riding Coats can be made from heavy or light weight coat wool, or from fustian fabric..

As shown above in heavy weight light grey wool
---
Return to Syke's Sutlering Main Clothing